The mission of the School of Social Sciences Undergraduate Student Affairs is to provide quality, student-centered educational support and to offer services that meet the administrative, academic goals of students, the School and the University. Our office can assist you with academic advising, course planning, change of major request, financial aid appeals, course substitutions, and information concerning honors. Appointments with academic counselors are scheduled for majors in the School of Social Sciences only. All others are able to speak with a Peer Academic Advisor on a walk-in basis.
Our staff and peer academic advisors are an essential part of the School of Social Sciences. They provide assistance to help undergraduate students meet their administrative and academic goals. Our friendly staff is always ready to assist you with any question regarding your academic career at UC Irvine.
To schedule an appointment with an Academic Counselor, please call (949) 824-6803. Appointments are approximately 30 minutes. Morning appointments are from 9:00AM-11:00AM and afternoon appointments are from 1:30PM-3:00PM. Appointments begin on Week 2 of each quarter. You are able to call to schedule an appointment the Thursday and Friday of the week prior. We do not make same day appointments.
To see a Peer Academic Advisor, you may come in during office hours for walk-in advising from 8:00am-11:30am and 1:00pm-3:30pm Monday through Friday.
ACADEMIC YEAR OFFICE HOURS
Monday - Friday
8:00am - 12:00pm and 1:00pm - 4:00pm (CLOSED from 12:00PM - 1:00PM DAILY)
CHANGES TO THE OFFICE HOURS
Tuesday, June 12th: Open from 1:00pm-4:00pm
Friday, June 15th: Office Closed for the School of Social Sciences' Commencement Ceremonies - Congratulations Class of 2018!!
Tuesday, June 19th: Office Closed
PLEASE NOTE: Our office will have very limited Summer office hours due to mandatory academic advising and orientations for new freshmen and transfer students. If you are a continuing student, is it recommend you come into the office prior to the end of Spring Quarter.
OFFICE LOCATION
1201 Social & Behavioral Sciences Gateway (building #214 on the UCI campus map)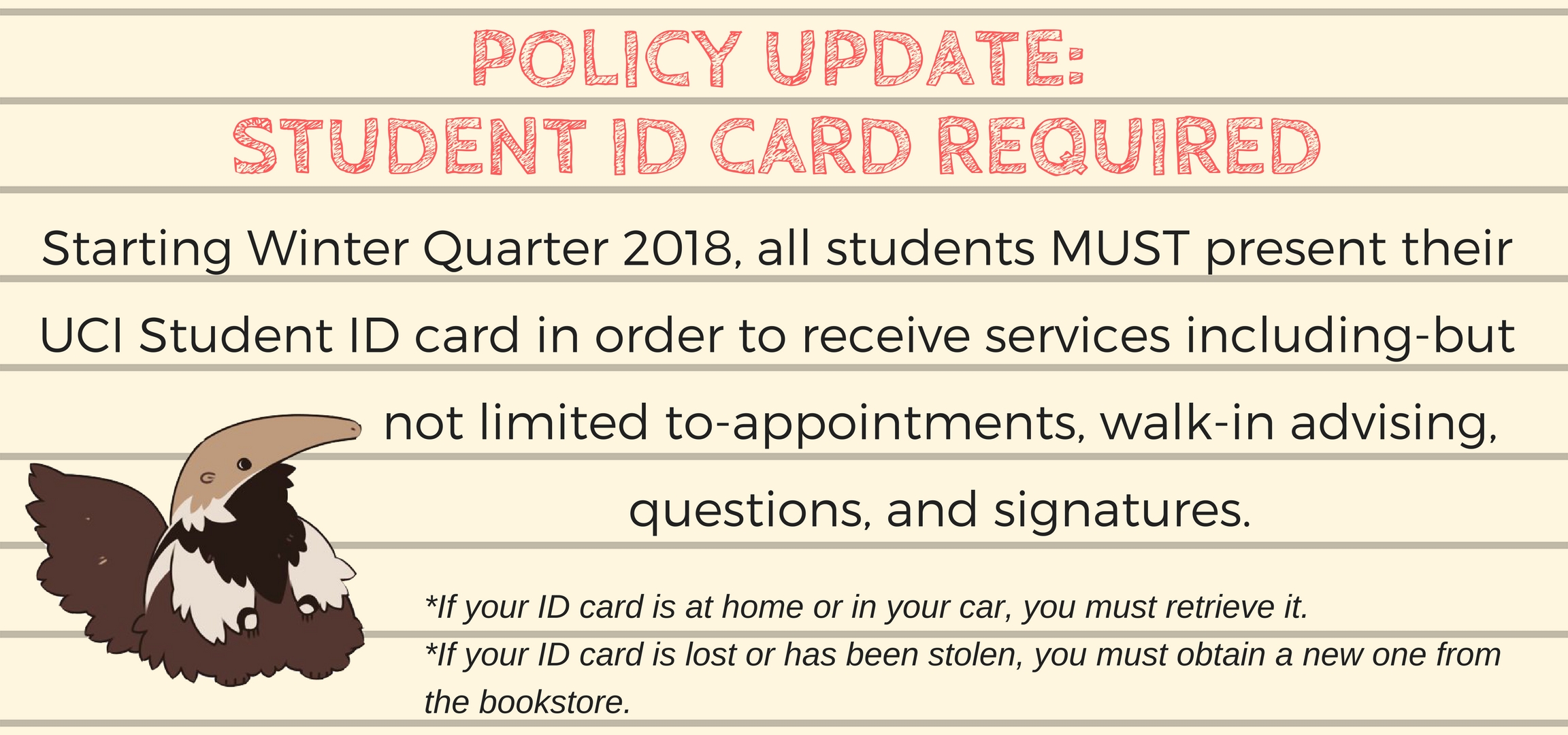 IMPORTANT LINKS