SOCIOLOGY
featured: '14 Darren Fells, went from playing basketball in the bren to being the arizona cardinals' tight end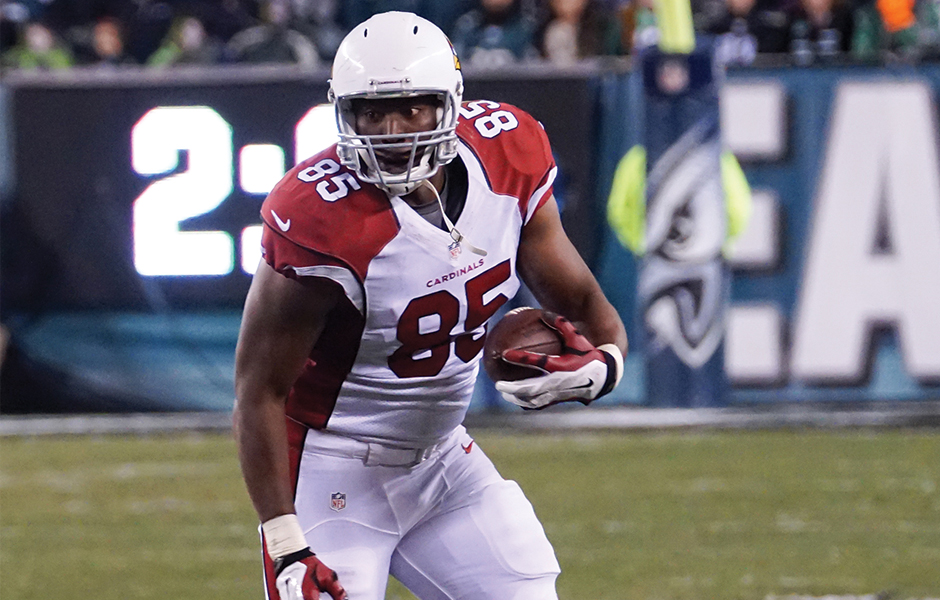 Photo courtesy of Arizona Cardinals

When you're an Anteater, football at the collegiate and professional level is something you watch, not necessarily play (at least competitive).
Unless you're Darren Fells '14. As the tight end for the Arizona Cardinals, he's UCI's first NFL player, which is quite remarkable, considering that we don't have a football team. The former Anteater basketball star was a standout on the high school gridiron before deciding to focus on the court—instead of the field—once he got to college. He later played basketball professionally for five years in Europe and South America before being drafted into the NFL during open tryouts in 2012.
But Fells got much more out of his college experience than a career as a professional athlete. His degree in sociology has helped him both on and off the field, and he hopes to pursue a career in counseling when his time in the NFL comes to a close.
So what does a sociology degree have to do with professional sports? A lot, according to Fells.
"I was always very interested in why people behave the way they do," he says. "It's so interesting to me how you can understand people's mentalities and how different people approach certain situations," Fells says.

Understanding the various factors that affect how a person reacts to a situation is invaluable when playing a team sport like football—especially when there is a lot at stake and tensions can run high.
"With sociology, you learn to understand how people act in a certain environment, and in football, you're in an environment with peers and you're all trying to get the exact same result," he says.
That understanding can also help one know how to diffuse high-stress situations, and Fells has found himself acting as a "therapist" to some teammates over the years, lending an ear or offering advice when he sees someone who needs it.
"It's an every day, every game situation, but once you do understand a person's mindset, it's easier to pick up on when they may be off their game and understand what you need to do to get them back focused to help the team out."
His studies in sociology didn't just help Fells with his teammates. His interest in the subject extends to interest in other cultures, and he even credits his UCI courses for inspiring him to sign the contract that sent him to Europe to play basketball.

major (B.A.)
minor
honors program
certificates
business, economy & organizations
diversiy & equality
global & international sociolgoy
social problems & public policy
sample courses
globalization & social change
religion & society
family & intimate relationships
aging & society
sociology of baseball

One introductory sociology class in particular, which required the students to choose one ethnic group to study and then present to the class, sticks out in his mind.
"During the group presentations I remember thinking how interesting all these other cultures were," he says. "I was jealous of the other groups. That's one reason why I ended up going and playing basketball overseas—so that I could experience different cultures for myself."
And experience other cultures he did. Fells played in Belgium, Finland, France, Mexico, and Argentina before finally deciding that his heart was with football. So he moved back to the U.S. to pursue a spot in the NFL.
"Football was one of those things I always knew I loved and wanted to do," he shares. "Even now, coming out of the tunnel and hearing the roar of the crowd during home games, it's pretty intense. Every time I come out of that tunnel, it still feels like a dream."
For now, Fells' focus is having as long of a career in the League as possible, and enjoying time with his wife and baby daughter—but he is hoping to start researching a master's program in counseling soon.

"I just love helping people," he says. "I love understanding why they think a certain way and helping them figure out their problems. I'm considering going into guidance counseling back in college, or maybe marriage counseling. There's so much to choose from, just choosing the right one is the hardest part."
Analyzing and understanding social behavior and structural patterns are skills that have served Fells and other sociology majors well in careers spanning law, business, government service, advanced graduate studies, social work, urban planning, public health, and teaching.
UCI sociologists are noted worldwide for cutting edge research in global inequality and change, immigration, social networks, social movements, political sociology, gender and class, population, social inequality, race/ethnicity, and more. Sociology majors explore topics such as how employment and incarceration status can change racial perceptions, how social networks affect gang violence and emergency response to catastrophic events, and how social movements can impact democracies. Research findings impact international population policy, the design and implementation of the U.S. Census, and the development of more effective communication plans for times of crisis.