QUANTITATIVE ECONOMICS
featured: '10 Sarah Bana, graduate student and future economist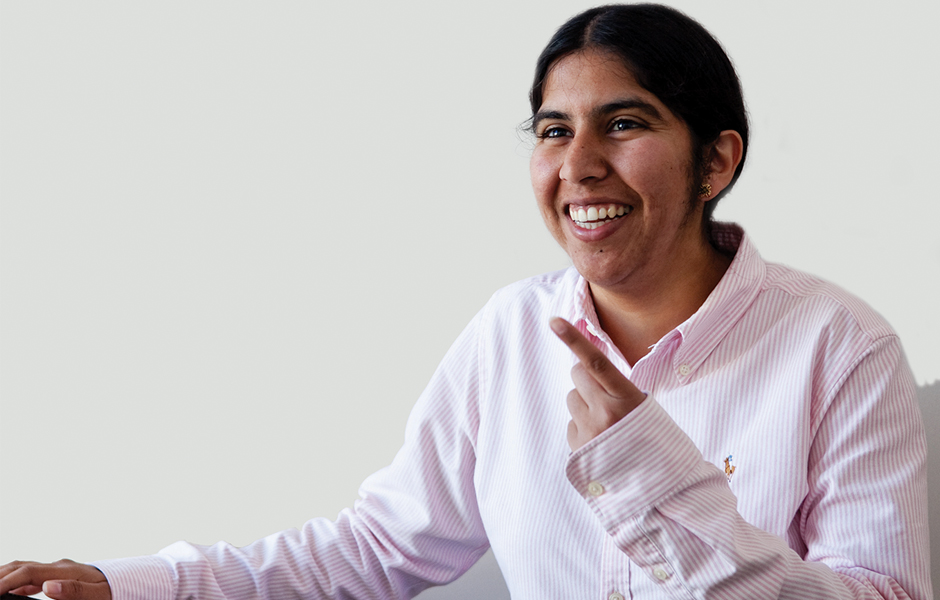 Sarah Bana always knew what she wanted to be when she grew up: an FBI agent.
"I'd read a lot of Nancy Drew and Hardy Boys mysteries, and I wanted to save the world," she says.
She still does, although she's going about it in a different way. The '10 quantitative economics alumna is finishing her doctorate at UC Santa Barbara and is on her way to becoming an economist, "maybe even chairwoman of the U.S. Federal Reserve one day," she says. And the case she hopes to take on: improving people's lives by influencing financial policy.
"You can change the life of a child when you read to her, or a homeless person when you serve him food," Bana says. "But I'm interested in economics because I'd like to help eliminate the root cause of poverty. There's a lack of equal opportunity in our society because many people can't afford a higher education. You can drive just 20 minutes from UCI to a shelter in Santa Ana filled with homeless people. Everyone should have access to a good life—especially an affordable, high-quality education—and it's our responsibility to help those who don't."
"I want to give people opportunities to succeed. Economics has made me think about what happens when you invest in people."

As an Anteater, she was heavily invested in the campus and community. She was executive vice president of Associated Students of UCI her senior year and she started volunteering as a freshman. She led the UCI chapter of Circle K International, receiving the Anteater Award for President of the Year from the Office of the Dean of Students while the chapter won the service organization award.
Bana has helped feed the hungry and shelter the homeless, and tutor elementary and middle school students at the Boys & Girls Club of Tustin through a Circle K program she co-created as a sophomore.
She was also active in the campus's Cross-Cultural Center as an outreach intern, urging other students to get involved.
In her ASUCI role, Bana chaired the Legislative Council, oversaw the Lobby Core Course, was a political advocate for UC students at the state level, and served on the board of the University of California Students Association, which is comprised of executive vice presidents from every UC campus and strives to give students a voice in UC governance.

major (B.A.)
honors program
minors
hearing & speech sciences
linguistics
psychology
sample courses
experimental psychology
abnormal psychology
personality theories
human memory

"It's important to share our concerns with the regents and state officials," Bana says. Asked to cite students' most pressing issue, she replies without hesitation: The budget crisis."
She traveled to Sacramento to meet with legislators about funding and returned to lobby on students' behalf.
And now, as a graduate student, she's focused on economics and public policy.
"I want to work on large-scale public policy initiatives," Bana says. "Too often, people are viewed as numbers or statistics. Policymakers don't think how tax increases or rising tuition fees will affect families. I'd like to change the way the world views economics and people."

Quantitative economics is an ideal major for students—like Bana—who wish to pursue doctoral level studies in economics. The highly quantitative course of study is also beneficial for students looking to attend prestigious business and public policy graduate programs.
Areas of study address questions like: What is the effect of a 10 cent per-gallon increase in the tax on gasoline on the average number of miles people drive per week? And if the Federal Reserve increases interest rates by a percentage point, by how many percentage points do we expect the inflation rate and the rate of GDP growth to change?
Students in the program develop skills that are useful in all occupations, particularly in quantitative careers in finance, business, law, and in graduate studies in the social sciences.