INTERNATIONAL STUDIES
featured: Sunny Liu '15 pursues her passion for public health through her Peace Corps post in Fiji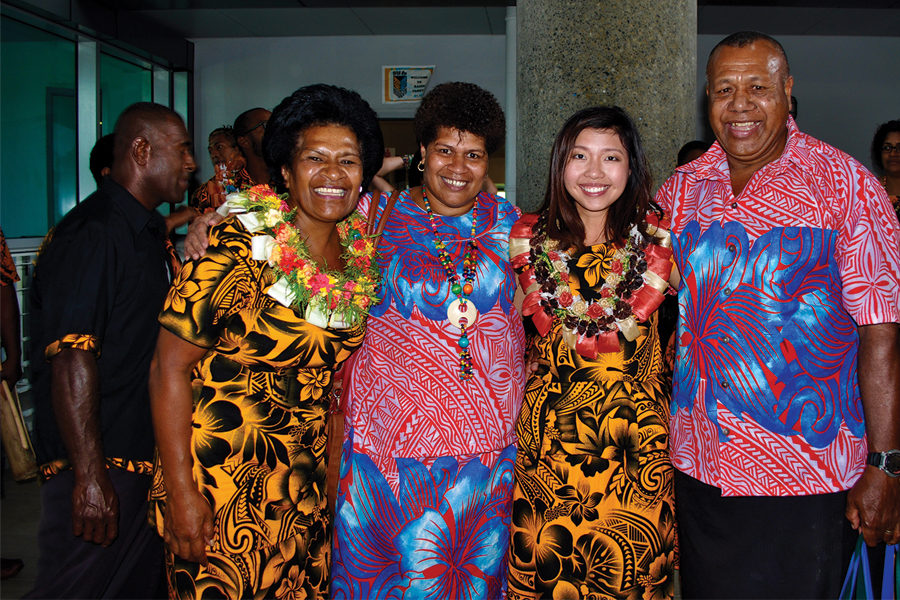 Sunny Liu's outlook on life is every bit as bright as her name reflects. As one of the 2015 School of Social Sciences commencement speakers, she addressed thousands of her peers and their families, sharing her experiences, her passion for public health, and the value of perseverance.
"It was truly an honor to be a representative of my class at graduation," she says. "Looking back, it was like a dream, with every moment of my four-year journey at UCI building up to that grand finale."
Since that day, she has barely paused to catch her breath: she recalls the adrenaline of being on stage, the rush of love and acceptance as her parents embraced her after her speech, the excitement of finally getting the chance to backpack across Europe (checking an item off of her bucket list), and finally, the nerves and exhilaration when it was time to set off for her journey as a peer health educator with the Peace Corps.

But in the midst of her post-graduate frenzy, she had found just enough time to be profoundly grateful for her experiences—both at UCI and beyond.
"Compared to most of the world, who still live in poverty on less than one dollar a day to sustain their life, I feel very privileged to have received my education," Liu shares. "And I feel responsible to utilize my opportunities …so I can move on, either to higher education or a future career where I can contribute to helping people."
It's a sentiment she is passionate about, and one she wasted no time in following through on. A few months after she delivered her speech, Liu left for Fiji on a service mission with the Peace Corps, forgoing several prestigious fellowship opportunities that many graduates would have jumped at. But she is confident in her decision to pursue this volunteer path that aligns with her passion for global health, and maintains that she is learning invaluable skills in her role as a peer health educator.

major (B.S.)
minor
conflict resolution
international studies
honors program
certificates
conflict analysis & resolution
mediation
middle east studies
global leadership
sample courses
international relations
u.s. foreign policy
human trafficking
international experience


(study abroad, UCDC, internship)

"While most of my friends and family considered my choice to enter the Peace Corps to be noble and sacrificial, what they don't see is how much I've learned from the people here, as much they have learned from me," Liu says.
After two months of intensive language and cultural training, she began work with the Reproductive and Family Health Association of Fiji and now works closely with primary and secondary school children to empower them and provide reproductive health training. And while she has already been greatly affected by the experience, it's not necessarily in the way she expected.
"Like most people, I envisioned my Peace Corps experience with many grand plans," she shares. "I believed that with my education and work experience, I would come to this tiny South Pacific island to offer the best of my knowledge—to change the world. In reality, I still have much to learn."
Liu will continue working with the Peace Corps for the time being—she hasn'tdecided when she will return home—and hopes that she will continue to gain knowledge and perspectives that will aid her in her quest to create global health equality.

A global mindset, like Liu's, is a common trait among UCI international studies majors. Students pursuing this degree acquire twenty-first century analytical skills that enable them to understand and contribute to shaping the rapidly evolving global community. International studies majors benefit from courses with prominent faculty and lecturers in the social sciences, as well as other schools across campus. Faculty expertise and research interests in international, global, and regional affairs make UCI one of the leading globally-oriented educational institutions in the world.
The degree equips students for professional careers in a variety of fields such as international affairs and public policy, international business and finance, international organizations, non-governmental organizations (NGOs), and academic research and teaching.