CHICANO/LATINO STUDIES
featured: '15 Franchesca Ocasio advocate for foster youth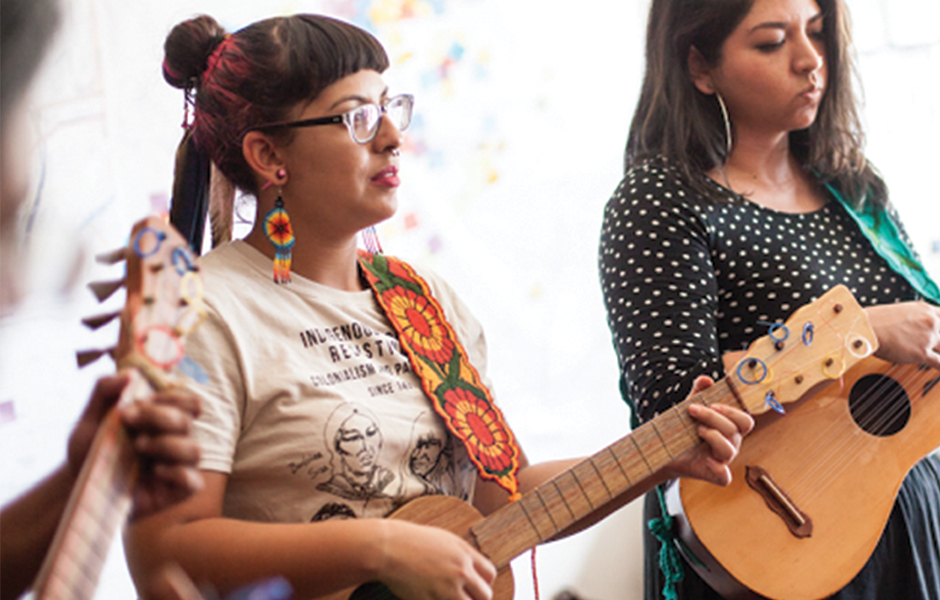 Franchesca Ocasio admits that her reasons for coming to UCI as an undergrad were not purely academic. The California native and current foster youth liaison for the Pasadena Unified School District had moved to Chicago as a teenager, and she saw college as the perfect opportunity to come back to the friends and family she had left behind upon her move to the Midwest.
"Of course, UCI's reputation as a leading research institution didn't hurt," she says.
As a freshman, Ocasio declared herself a biology major, planning on a potential future as a veterinarian. However after taking a Chicano studies class for fun, she realized the passion that she had for the subject. She became involved in student organizations such as M.E.Ch.A (Movimiento Estudiantil Chican@ de Azatlan), and felt like she found a place she belonged.
"In M.E.Ch.A I found a second family and a love for education and communityorganizing," she says. "When I found my community, I found a home, making my decision to attend UCI one of the best I've ever made."

The organization soon brought her to other programs both on and off campus, such as UCI's Raza Youth Conference, a day for Southern California high school students to explore UCI and participate in workshops; Mes de la Raza, a month-long series of cultural and political events; and La Escuelita, an after-school program for Santa Ana high school students. The more she connected with peers who shared similar cultures and interests, the more it became clear to her that science might not be the best field for her after all.
She made the leap to Chicano/Latino studies and fully immersed herself in the program. She counts the people she met there as some of her closest friends and mentors, and she is still involved with the Raza Youth Conference today. She also still performs as an Aztec dancer during UCI's annual Dia de los Muertos celebration with fellow alumni.
It was—and still is—these outside activities that made the most lasting impact on Ocasio. She encourages current students to be proactive in both seeking out their own places in the campus community, and in taking advantage of the resources and information that are out there for students.

major (B.A.)
minor
honors program
certificates
history & culture
social policy & issues
chicano/latino community in a global context
sample courses
latina/o childhoods
u.s. immigration policy
community politics
chicana/chicano theatre

"I feel that my time at UCI prepared me for my current career, but partly because I took advantage of the opportunities to work outside of the classroom and to get to know some of my professors," she says. "Many students don't learn until it's too late that doing well in class is only one aspect of a successful college career. I would advise graduating seniors to take advantage of as many opportunities they can find to assist in research on campus, as well as look for internship opportunities and get to know their professors if they haven't already. Those connections will have more value than they can imagine once they leave college and begin looking for a job."
Chicano/Latino studies majors at UCI have many clubs and opportunities to get involved in, including Casa Cesar Chavez, an academic theme house in the Arroyo Vista Housing Complex.

The major provides awareness, knowledge, and appreciation of the language, history, culture, literature, sociology, anthropology, politics, social ecology, health, medicine, and creative accomplishments in Chicano/Latino communities. Understanding how Latino expectations for success impact educational and professional outcomes, how an increasing number of registered Latino voters shapes the American electorate, and how multifaceted transitions impact Latino cultural identity are just a few of the topics undergrads will cover.
There are many career opportunities available for students with expertise in Chicano/Latino studies. They include service with national and international organizations seeking knowledge of American multicultural society; area specialist positions with state and federal government agencies; careers in the private sector with corporations or private organizations with business activities in Latin American countries; service and leadership positions in education (like Ocasio), human services, law, health, journalism, and public policy within Chicano/Latino communities; and professional and graduate education.