BUSINESS ECONOMICS
featured: Crystal Sanchez, founder of Guardian Locket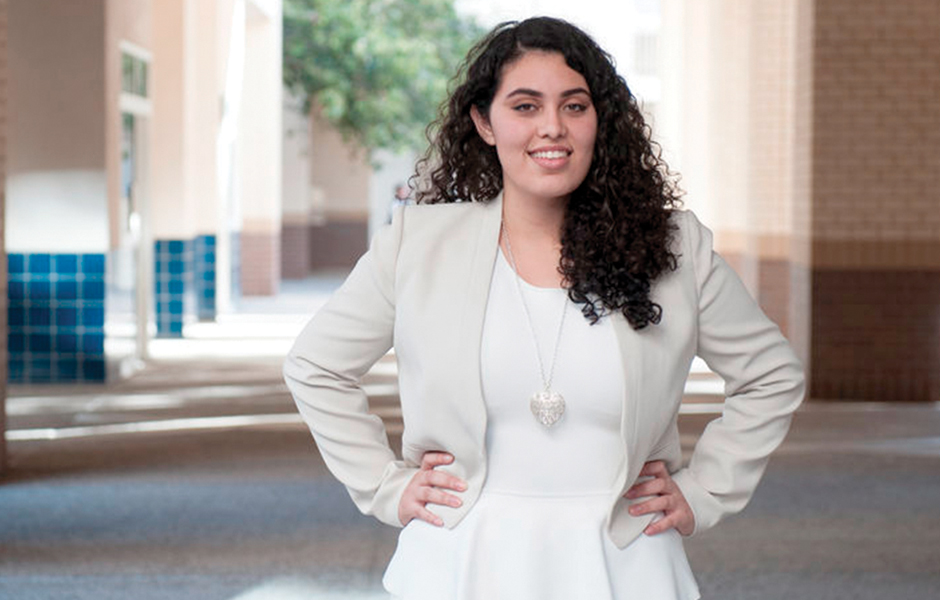 Crystal Sanchez didn't experience "senioritis" like many high school students do. The business economics major watched as her peers coasted through those last few months of classes before heading off to college while she remained hard at work at her Lawndale, CA high school developing a piece of jewelry that she believed could save lives.
Fast-forward to her freshman year at UCI, and Sanchez's Guardian Locket—a necklace equipped with a panic button and GPS capabilities to alert the authorities in case of sexual assault—earned her the $25,000 first prize in the Network for Teaching Entrepreneurship's (NFTE) 2015 National Youth Entrepreneurship Challenge and an invitation to the White House where she met the President in the Oval Office.
"Within the span of 24 hours I flew across the country and shook hands with one of the most influential political figures," Sanchez said. "Those 24 hours were exhilarating and well worth all of the hard work. Being able to travel to Washington D.C. and meet the president was one of the most memorable experiences of my life."

Guardian Locket is a wearable, fashionable device that allows for quick and easy access in the case of an assault. Utilizing circuit boards hidden within the necklace, a single push of the button on the back of the locket sends the wearer a false phone call to potentially scare off an attacker. With another two clicks, the wearer's exact location, photo, and other relevant information will be sent to local authorities and three emergency contacts.
Her invention demonstrates obvious advantages over products like pepper spray and Mace, which have been the only real options in self-defense available to college students. The idea came to her after she realized how many college students are assaulted each year. She won several local competitions during her senior year in high school, and was eventually invited to take part in NFTE's Startup Summer Program that aims to help low-income students develop entrepreneurial skills. It was there that Sanchez met her business partner who had developed an app that worked well with Sanchez's vision. Together, the two prepared for the final round of competition in New York City, and in the fall—just a week after starting classes at UCI—she was on stage presenting her idea to a panel of business and technology experts. The panel was impressed by her idea and awarded her the $25,000 grand prize to use toward getting Guardian Locket up and running.

major (B.A.)
honors program
specialization
international issues & economics
sample courses
economics of risk & uncertainty
managerial economics
corporate governance
business decisions

Since then, she has been planning out what the next few years will look like for the business and she's thrilled to be at UCI where she receives encouragement and has access to helpful programs.
"UCI is a comfortable environment, but it still pushes its students toward success through its challenging curriculum," she said. "The school also works with various organizations that benefit student entrepreneurs. They really help their students develop an entrepreneurial mindset."
Sanchez is taking full advantage of such facilities. Following her return from Washington D.C., she moved her workspace to Applied Innovation's The Cove. The 31,000-squarefoot facility is the hub of UCI's efforts to collaborate with the larger economy, and it provides consultation for startups. Sanchez also has received help from the Blackstone LaunchPad—the student entrepreneur program with offices in the UCI Student Center.

Whether you're a budding entrepreneur like Sanchez, or you have a general interest in how decisions and actions of individuals, businesses, and governments impact markets, business economics is for you.
Researchers in this field ask questions like: What factors influence market booms and busts? What kinds of government policies are likely to lead to higher rates of economic growth? And will airline mergers lead to higher airfares?
Business economics majors at UCI develop analytical skills, quantitative tools, and clarity of thought that are useful in all occupations. The Economics Learning Center provides walk-in tutoring services to students enrolled in economics classes at UCI, and the degree provides excellent preparation for graduate study in law, business, public policy, and social sciences.