New Student Information for Fall 2019
School of Social Sciences | Undergraduate Student Affairs Office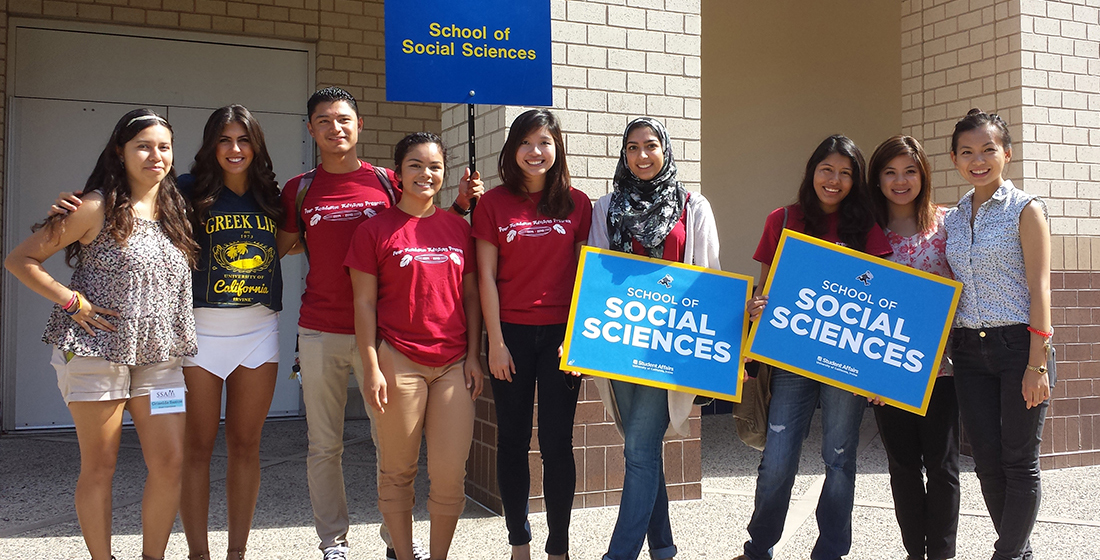 Welcome to the School of Social Sciences at the University of California, Irvine! An important component of your academic success is the careful selection of courses appropriate to your educational goals. Our office, Social Sciences Undergraduate Student Affairs, provides you with academic advising to ensure that you are ready to begin classes in Fall Quarter 2019 and help you reach your goals. Please read the information below regarding new student orientations and transfer advising for new students.
NOTE: Please contact our office via email at the email addresses provided. Always include your full name and UCI ID number in all correspondence.
Please visit http://www.newstudents.uci.edu/ for new student information.
The New Student Handbook is a compilation of many campus resources and offices that can assist you on your undergraduate journey here at UCI.
New Students
Make sure you submit your Statement of Intent to Register (SIR) before the deadlines below:
Freshmen - May 1st
Transfer Students - June 1st
After these deadlines, you will receive information from our office via email regarding the academic advising provided for all new students.
New Freshmen
Student Parent Orientation Program (SPOP) will be offered on-campus several times in July and August. SPOP is a comprehensive orientation program designed for all new domestic freshmen and new international freshmen who attended high school in the U.S. and/or international students taking summer sessions at UCI. SPOP attendees will receive academic advising and sign up for fall quarter classes at orientation.
For more information on orientation, please go here: http://orientation.uci.edu/
For any questions you may have, you can contact our office at freshmenadmit@socsci.uci.edu
New International Freshmen
If you are a new international freshmen student, you will have a "non-admissions" HOLD on your account from the School of Social Sciences. This HOLD will be removed after our office advises you. You will be sent an email from intlfr@socsci.uci.edu to your UCI EMAIL ADDRESS in mid-July with information about the hold and academic advising. Please make sure that you check your UCI EMAIL ADDRESS frequently since this will be the only email address we use to send out you important information.
Before we will provide you with academic advising, you first need to sign up for International Student Parent Orientation Program (ISPOP). Information about ISPOP is below and you can sign up through the Orientation website found here: http://orientation.uci.edu/
International Student Parent Orientation Program (ISPOP) will be held on-campus from September 17th-19th. ISPOP has been specifically designed for new international freshmen who did not attend high school in the U.S. or were not able to attend any orientation (in person). Since ISPOP is held in September, international students who attend it will receive academic advising via email and enroll in classes in the summer. You must first make a reservation for ISPOP to receive any information about advising.
PLEASE NOTE: If you are a new international freshmen student who will be attending SPOP, you do NOT need to sign up for ISPOP. Your hold will be removed during academic advising at SPOP.
New Transfer Students
As an incoming transfer student, you currently have a HOLD on your record. The hold will be lifted once your academic advising has been completed. Information on how you will make a reservation for academic advising will be emailed to you in June after your SIR deadline. These emails will be sent to the email address that you provided on your MyAdmissions application.
To prepare for this, compile all of your unofficial transcripts from all colleges/institutions you've attended (preferred format: PDF), which are required to complete your reservation. If you are a community college transfer student, confirm with your college advisor/counselor if you have completed or are currently completing your IGETC certification.
Information regarding mandatory transfer advising sessions (ADMITTED Social Science transfer students ONLY) can be found here.
Email our office at transferadmit@socsci.uci.edu with any questions or concerns you may have.
OPTIONAL UCI ORIENTATION PROGRAMS FOR TRANSFER STUDENTS: The academic advising sessions offered by the School of Social Sciences are required for all incoming transfer students. Once completed, the HOLD will be removed from your records. However, UCI also offers OPTIONAL orientation programs for new transfer students. These sessions DO NOT PROVIDE academic advising (and your hold will not be removed if you attend them). You can find more information about these optional orientation programs, mini-Transfer Student Parent Orientation Program (mini-TSPOP) and Transfer Student Parent Orientation Program (T-SPOP), here: https://www.orientation.uci.edu/