UCI's top junior

"Being low-income and getting to go to college is a privilege in itself, and I made it to UCI because a lot of people helped get me here," says UCI sociology and education sciences major Amy He. "I feel like a lot of kids – if they had that extra push – could make it to college as well."
Aldrich Scholarship recipient Amy He makes
social sciences – and her single, immigrant mom – proud
Very few teenagers would trade a 15-minute communte to high school for a 75-minute bus ride. Even fewer would voluntarily study late into each night. But sociology and education sciences majro Amy He, the 2015 Dan and Jean Aldrich Scholarship recipient, willingly took on such challenges.
This dedication to her studies is one reason that School of Social Sciences faculty members nominated He for the prestigious scholarship, awarded to one junior each year based on academic excellence, campus involvement, community service and leadership.
poor and minority students succeed. But she's also humble and quick to credit others – especially her mother – for her success.
Intelligent and ambitious, He has earned 20 "A+" grades since arriving at UCI and hopes to forge a career helping poor and minority students succeed. But she's also humble and quick to credit others – especially her mother – for her success.
A special bond
He has always been close to her mother, who emigrated from a farm in rural China before she was born and raised her – alone – in Visitacion Valley, near San Francisco. With virtually no education and in a country where she did not speak the language, He's mother took a job as a janitor at a high-end salon, a position she's held for 15 years.
The commute took He from poverty-stricken Visitacion Valley to wealthy North Beach, opening her eyes to the effects of economic disparity. At her new school, she found teachers who allowed her to stay late and study, since her mother couldn't help her with homework. The experience sparked her desire to reform the system so that disadvantaged students could access high-quality education just like their better-off peers.
The commute took He from poverty-stricken Visitacion Valley to wealthy North Beach, opening her eyes to the effects of economic disparity. At her new school, she found teachers who allowed her to stay late and study, since her mother couldn't help her with homework. The experience sparked her desire to reform the system so that disadvantaged students could access high-quality education just like their better-off peers.
While still in high school, He paid a visit to UCI, where her cousin was a student. The trip was enough to make her fall in love with the campus, and she set her sights on becoming an Anteater. Though it meant moving far away from her mom, she was thrilled and humbled to be accepted.
"Being low-income and getting to go to college is a privilege in itself, and I made it to UCI because a lot of people helped get me here. It's not just because I worked hard," He says. "I have a supportive mother, and I had teachers that cared about me enough to introduce me to programs that I could get involved in. I feel like a lot of kids – if they had that extra push – could make it to college as well."
An active Anteater
In her second year at UCI, He discovered her passion for sociology, in particular theories about society, stereotypes and the oppression of certain groups. One of her favorite courses was on multicultural education, in which she learned why schooling is so difficult for students with backgrounds like hers.
"These students don't see the purpose in school from very early on," He says. "There's a social contract between students and teachers in which students give up their freedom at school to receive a satisfactory education. However, when the social contract is broken – a school fails to deliver a fair and quality education – students see no reason to follow the directions set out by the teacher."
In another class, she examined the learning habits of second-generation immigrants and why they typically strive for good grades. The answer didn't surprise her.
"It's because they have this dual frame of reference where they connect with their immigrant parents who work so hard and sacrifice so much so they can do well," He says. "And I definitely feel that way about my mom. I want to make myself proud, but I also want to make her proud because she works so hard so that I can be here."
She has taken advantage of extracurricular opportunities to learn about minority groups while having fun and making friends. Her favorite was the UCI Alternative Break Program, which she became involved with during her freshman year, when she signed up to visit a Native American reservation in California. As a sophomore, she interned with the organization, helping plan service trips to Arizona and Los Angeles to study immigration policy, homelessness and poverty.
"It's a unique opportunity," He says. "You feel like an adult. You're in charge of planning activities and calling organizations to ask if we can volunteer with them. I could never have imagined myself doing something so big and important to me."
This summer, she began exploring more options by working with Breakthrough San Juan Capistrano, a free program that provides enriching classes and extracurricular activities for low-income, high-achieving middle and high school students. As an intern teacher, He built lesson plans, taught pre-algebra and an elective course, and made connections with her students – many of whom will be the first in their families to attend college.
"I want to create something for students where they love to learn, where they see the purpose in learning," she says.
Between her volunteer efforts, extracurricular activities and schoolwork, she sometimes feels stretched thin. He says that's when she hears her mother telling her: "You can do it. It's supposed to be hard."
"She's been saying that since I was in kindergarten," He says, "and it makes sense. I'm just getting older, and things are getting harder, and that's OK."
A Presidential Zot!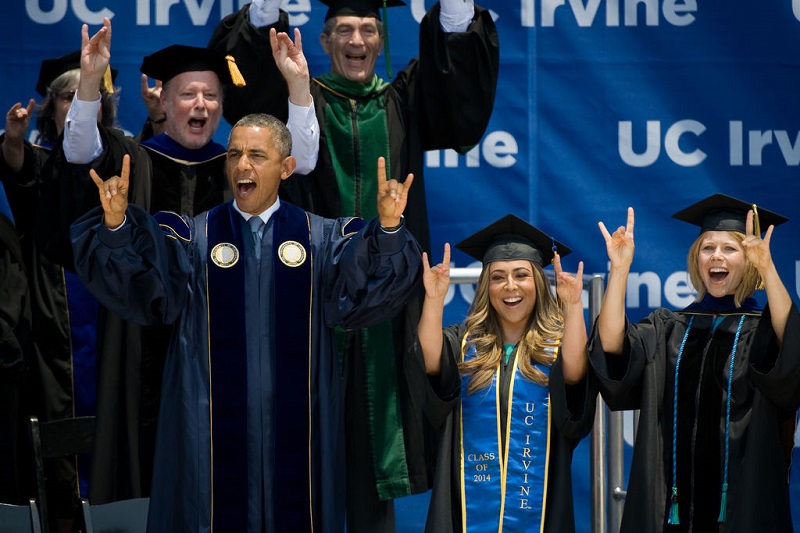 Chicano/Latino studies and sociology major Jacqueline Rodriguez helped President Obama master the "Zot" at UCI's 2014 all- campus commencement
Jacqueline Rodríguez is the first person in her family to finish college. A Hacienda Heights native, Rodriguez was selected to be the undergraduate speaker at the all campus commencement ceremony headlined by President Barack Obama at Angels Stadium in 2014.
Before President Obama left the stage, then-Chancellor Drake asked Rodríguez, graduate speaker Jessica Pratt and national anthem singer Melissa McCann to show the president how to execute a proper "Zot!" Rodríguez helped the pres with the Anteater hand sign, which Obama didn't have quite right at first.
"It was a bit intimidating," she said later. "I was thinking, 'Should I correct the president or not?' I didn't want to be disrespectful. But he was really warm and down-to-earth and friendly with the students." Mindful of the Secret Service, she decided to go for it and adjusted Obama's fingers so they formed a proper snout. The president then led the crowd in a triple-"Zot!" cheer.
For Rodríguez, the daughter of immigrants from El Salvador and the first in her family to graduate from college, the experience was amazing. Images of Obama and her were disseminated by news outlets worldwide and proliferated on social media.
"My Facebook feed blew up," she said. "People kept tagging and texting me, saying they saw it on the news - especially my friends and family in El Salvador. To them, it wasn't just a symbol of my accomplishments but the fruit of my father's hard work and their support."
Rodríguez's mother died when she was 5, and she was raised by her father, Ricardo, in Los Angeles. He has good reason to be proud of his daughter. While at UCI, Rodriguez was a member of UC Irvine's SAGE Scholars program. She pursued and presented research through the Undergraduate Research Opportunities Program and was an active participant in the campus's Early Academic Outreach Program. Her speech to the crowd of more than 39,000 focused on investing and increasing access to higher education. She credits her family and faculty mentors with giving her the support and motivation she needed to succeed in higher education.
Rodríguez earned bachelor's degrees in sociology and Chicano/Latino studies, and in fall, she began a Ph.D. program in education at the University of Illinois at Urbana-Champaign.
Making her case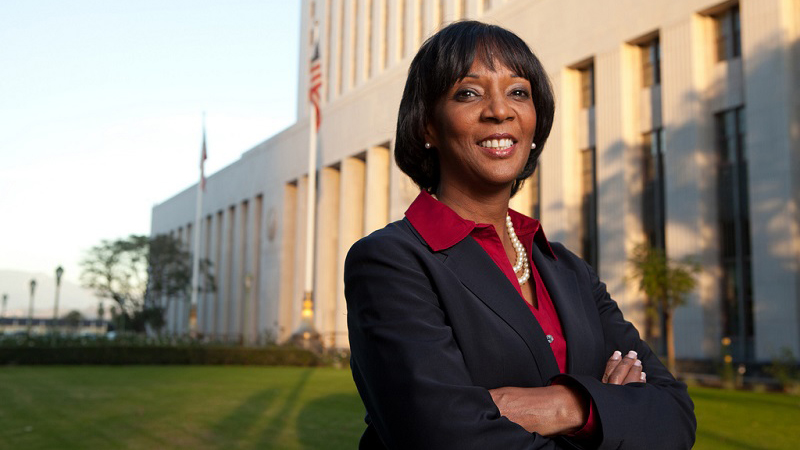 District Attorney Jackie Lacey '79 reflects on education, careers
When UC Irvine alumna Jackie Lacey announced that she was running for Los Angeles County district attorney, many people thought she didn't stand a chance. In the 150-year history of the office, there had never been a female or an African American in the top job. "The fellas," as Lacey jokingly calls the former district attorneys, "all looked alike."
That changed on Dec. 3, 2012, when she was sworn in as the county's first female and first African American district attorney after prevailing in the California general election. Lacey now oversees the nation's largest prosecutorial office, with about 1,000 deputy district attorneys, 300 investigators and 800 support staff.
She's come a long way – from a girl growing up in a working-class neighborhood of LA to chief prosecutor – and UC Irvine played a key role in her transformation.
"This university caused me to become a lawyer," she says. Lacey returned to her alma mater shortly after the election to give a talk at the Cross-Cultural Center about her undergraduate days and to receive UC Irvine's first Distinguished Professional in Public Service Award.
She enrolled here as a psychology major in 1975 with the idea of eventually earning a teaching credential. But a summer job at a local elementary school convinced her that teaching wasn't her calling.
"You have to be good with kids in order to spend every day – every day – in a classroom with 30 of them," Lacey says.
Unsure of her direction, she took an introductory law course her junior year that included sitting in on trials at the Santa Ana courthouse.
"I fell into a class that would change the trajectory of my life. There, I discovered that I loved being in the courtroom," Lacey says. "For me, it provided so much theater… You never knew when a curse word was going to come out of someone's mouth and cause you to laugh when you shouldn't laugh, or when a judge was going to say, 'Knock it off,' or when the litigants would fight. I liked that edge of never knowing what was going to happen."
She also was inspired by one of the class's guest lecturers, an African American lawyer named Irma Brown, now a Los Angeles Superior Court judge.
"It was something about that woman's mannerisms, the passion she had in her voice, the way she looked, the fact that she had come from a background that I had come from, that made me say, 'I could be like her. I could do that,'" she says.
Lacey was the first in her family to go to college. Her parents both fled discrimination in the South in the 1950s and found jobs in Los Angeles, where they met. Her mother, Addie Phillips, worked in a garment factory, and her father, Louis Phillips (now deceased), worked for the city, cleaning vacant lots.
When Lacey told her parents she wanted to be a lawyer, they were thrilled. The change in career choices proved a turning point.
"Like everything in my life, I judge whether I'm making the right decision… by whether or not the doors are opening up," she says. "If they are, it's probably the right path."
Lacey hopes her historic victory will encourage other minorities and women to pursue careers in law enforcement. Her message to the UC Irvine students – many of them young African Americans – who turned out for her recent talk:
"Whatever your dreams are, whatever your purpose in life, whatever your calling… step out in faith and go forward. Stop waiting. Something that seems at first to be impossible may merely be difficult. Do not be afraid of the difficult. Keep going."
Entrepreneur at eighteen
Freshman business econ student kick starts her career
as a CEO with $25,000 for Guardian Locket
Crystal Sanchez didn't experience "senioritis" like many high school students do.
The freshman in the School of Social Sciences' business economics program watched as her peers coasted through those last few months of classes before heading off to college, but she remained hard at work at her Lawndale, CA high school developing a piece of jewelry that she believed could save lives. Fast-forward to October 2015, and her Guardian Locket—a necklace equipped with a panic button and GPS capabilities to alert the authorities in case of sexual assault—earned Sanchez the $25,000 first prize in the Network for Teaching Entrepreneurship's (NFTE) 2015 National Youth Entrepreneurship Challenge.
Following her win, the budding entrepreneur was invited to visit the White House by the Office of Science & Technology Policy. On Nov. 25, with five other inspiring young entrepreneurs, she met President Obama in the Oval Office.
"Within the span of 24 hours I flew across the country and shook hands with one of the most influential political figures," Sanchez said. "Those 24 hours were exhilarating and well worth all of the hard work. Being able to travel to Washington D.C. and meet the president was one of the most memorable experiences of my life."
As exciting as this time has been for Sanchez, the idea for her invention stemmed from a much darker place. She first realized the need for a product like the Guardian Locket when she found out that her best friend was raped during her first year of college. Seeing her loved one go through that pain and become distant and isolated made her want to take action.
"I remember when she told me what happened, I was so taken aback," Sanchez said. "She's such a strong person and seeing this woman that I look up to and knowing that happened to her—I felt very protective."
Then her mother came forward to tell her about the time she had almost been sexually assaulted. She was able to escape, but the fact that her mom had been so close to that danger really resonated with Sanchez.
"I was so grateful that she was able to get away, but then I started thinking that not everyone is so lucky," she said. "So I wanted to create something that would combat sexual assault in a discreet manner."
The opportunity to turn that desire into a real company presented itself during Sanchez's final year of high school. Her economics teacher tasked the senior students with creating their own businesses, a project that coincided with the writing of their senior theses. Sanchez decided to merge the two assignments, using her thesis to address sexual violence in the U.S. and how society tacitly encourages sexual violence against women.
"Not only do we see objectification of women everywhere (billboards, magazine covers), some of the most mainstream films today glorify abusive relationships," she said. "This causes the viewer to normalize abuse. We need to begin showing the public that objectification and abuse is not 'normal.' We shouldn't be okay with the way that women and victims are portrayed in the media because when the public accepts this, they begin teaching their children to accept it and soon a whole generation becomes infected with this toxic mindset."
While she couldn't change the thinking of an entire generation with one school paper, she still decided to use her economics project as an opportunity to actively tackle the issue.
Her solution was the Guardian Locket, a wearable and fashionable device that allows for quick and easy access in the case of an assault. Utilizing circuit boards hidden within the necklace, a single push of the button on the back of the locket sends the wearer a false phone call to potentially scare off an attacker. With another two clicks, the wearer's exact location, photo, and other relevant information will be sent to local authorities and three emergency contacts.
Her invention demonstrates obvious advantages over products like pepper spray and Mace, which have been the only real options in self-defense available to college students.
"Not only is Mace illegal in California, New York, and other states, but there is a high likelihood that the person needing to defend themselves may get sprayed on accident," Sanchez said.
In addition, a canister of pepper spray doesn't easily fit in pockets or smaller clutch bags, and it can take awhile to find in a larger tote bag, wasting time that could make the difference between a close call and a tragedy. Alternately, the Guardian Locket is worn around the neck so it is always within reach.
The idea impressed Sanchez's economics teacher, who encouraged her to enter the school-wide classroom competition where she took first place. From there, she went on to compete against other schools in the area, and after coming out on top in two more rounds of competition, she was granted the opportunity to take part in NFTE's Startup Summer Program that aims to help low-income students develop entrepreneurial skills.
"All of the students in the program just worked on their businesses for about two months for up to eight hours a day," she explained. "We were also paired up with mentors who they thought would be a good fit for our product."
It was there that Sanchez was introduced to her business partner who had developed an app that worked well with Sanchez's vision. Together the two prepared for the final round of competition in New York City, and on October 6—just a week after starting classes at UCI—she was on stage presenting her idea to a panel of business and technology experts. The panel was impressed by her idea and awarded her the $25,000 grand prize to use toward getting Guardian Locket up and running.
Since then, she has been planning out what the next few years will look like for the business. Sanchez and her team will be spending the award funds to build up their inventory and develop the circuit boards that make the lockets functional. Sanchez plans on taking some design classes so that she can layout the lockets herself. Though the goal is to establish a line of lockets in different lengths, metals, and with interchangeable faces, Sanchez hopes to expand the line to include chunky bracelets, statement necklaces, and even watches for men.
"It's not only a more convenient way to combat the rape culture, but it's a fashion product as well," she explained. "So it's all-in-one really."
With so much work to be done, Sanchez is thrilled to be at UCI where she receives encouragement and has access to helpful programs.
"UCI is a comfortable environment, but it still pushes its students toward success through its challenging curriculum," she said. "The school also works with various organizations that benefit student entrepreneurs. They really help their students develop an entrepreneurial mindset."
Sanchez is taking full advantage of such facilities. Following her return from Washington D.C., she moved her workspace to Applied Innovation's The Cove. The 31,000-square-foot facility is the hub of UCI's efforts to collaborate with the larger economy, and it provides consultation for startups. Sanchez also has received help from the Blackstone LaunchPad—the student entrepreneur program with offices in the UCI Student Center.
Though it's been a busy start to Sanchez's college career, she says she wouldn't have had it any other way.
"It's been a difficult transition but it's all worth it," she said. "We live in a world where a person is raped every two minutes. And you don't know who has been a victim because a lot of times people try to hold it in. If I can create this product and protect people, all of this extra work is nothing."
Sowing the seeds of change
With her gardening kit startup, senior Stella Liu hopes
to motivate people to grow their own food
Stella Liu wanted to solve a problem. She knew that her peers were passionate about local organic food and curious about growing their own fruits and vegetables. But many of them had no gardening experience, lived in apartments or were intimidated by massive home improvement stores, with their endless options for soil, fertilizer and tools.
That's where OneSeed comes in. It's a subscription-based gardening kit that arrives on the doorstep with three plants in a handcrafted redwood planter. Each season, new seedlings are delivered so that subscribers can exercise their green thumb year-round. Online videos supplement the experience, and salad recipes are provided for enjoying the fruits of one's labor.
"My vision for OneSeed is that everyone with a windowsill, balcony or backyard can have their own garden," says Liu, a fourth-year international studies major at UC Irvine. She hopes to motivate people to start growing their own food and to connect with where their food comes from.
Liu unveiled the idea in November 2014 at Startup Weekend Orange County. The Google-sponsored challenge brings together students and professionals to form fledgling companies in 54 hours. Liu was one of 20 participants with proposals – and one of eight who prevailed. She assembled a team of pros (a civil engineer, two website developers, one business analyst, a Web designer, a startup expert and a photographer) to refine her concept and create a website.
"Our goal was to build a product that could really impact the world," Liu says.
The inspiration for the project came from an alternative spring break trip in 2012 to the village of Mastatal, Costa Rica. UCI's global sustainability and cultural immersion program in the Central American nation annually brings 16 students to an environmental learning center specializing in organic farming and sustainable development.
Participants experience open-air living, farm-to-table organic meals, composting toilets, outdoor showers, and rural daily life. "I became really interested in sustainable food systems in the context of climate change and food insecurity," Liu says.
OneSeed fits squarely into the model of social entrepreneurship. It's a for-profit venture that seeks to have a positive effect on the environment and society. Some of its earnings are used to help start community gardens in food-insecure neighborhoods so that low-income families will have access to fresh, healthy produce.
A member of UCI's Campuswide Honors Program, Liu is also involved with humanitarian projects on campus. She collaborated on a weeklong "Break the Silence" event to raise awareness of forced migration, displacement and refugee populations. Liu came up with the idea during a solo backpacking trip to Cambodia.
But on most weekends, she can be found at farmers markets in Irvine and Costa Mesa, promoting OneSeed. It's a labor of love, although she recognizes that the odds are stacked against her.
"They say that nine out of 10 startups fail," Liu notes. "But my motto is to enjoy the journey over the destination. If OneSeed succeeds, that's great. If it fails, that's OK too. It's the people I've met along the way, the lessons I learned, and the opportunity to put an idea into action that made this experience worthwhile."
Ahead of his class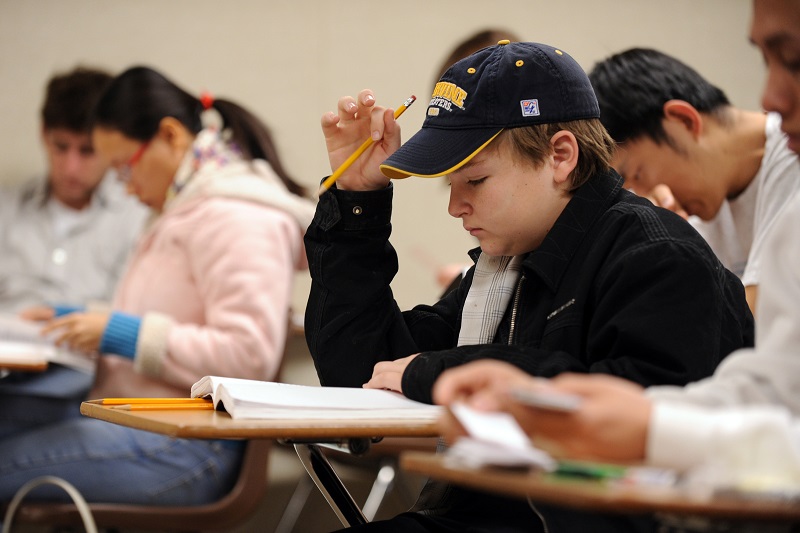 14-year-old quantitative economics undergrad Brandon Gross, UCI's youngest
In a disheveled dorm room at UC Irvine, Brandon Gross - a freckle-faced college kid in flip-flops and Anteaters ball cap - loads up his backpack and heads out the door to his math class in differential equations. Nothing unusual here, except Brandon is a kid.
A junior who transferred to UCI in winter, Brandon is just 14 - six years younger than most of his classmates. He's constantly moving between parallel worlds of responsible adulthood and playful adolescence.
At times, he sounds wise beyond his years. Enrolled as a quantitative economics major, he says, "I want to own my own business. That's better than having a job with a boss."
Other times, Brandon sounds like a typical 14-year-old: "I saw a falcon," he'll announce out of the blue. Or he'll imitate the family dog: "Most dogs don't actually say 'bowwow.' They go, 'Ruff!' But he does. 'Boooowwooow!'"
"Brandon is hyper-aware of things around him," explains his mother, Melissa Gross, who received her master's in urban and regional planning from UCI in 1994. "Who pays attention to how authors write about dogs barking versus how they actually sound?"
Ask Brandon what it's like to be the youngest kid in class, and he shrugs.
"It doesn't make a whole lot of difference to me, except I get asked a lot of questions," he says. "Everybody wants to know how old I am, what my major is and what classes I'm taking. I'm used to it."
He's been ahead of his peers all his life. By age 1, he was speaking in complete sentences; by age 2, complete paragraphs. He read the first Harry Potter book at age 4 - with complete comprehension, his mother says.
In first grade, the gap between Brandon and his peers widened. Gross remembers asking her son what he did during recess.
"He said he folded his jacket into a pillow and lay down in front of the classroom door," she recalls. "I remember thinking, 'Oh my God, my little boy is depressed!' That's when the battle began."
"Brandon took a lot of teasing. He got bullied badly in elementary school," she says. "The schools didn't know what to do with him."
Parents of gifted children (Brandon ranks in the top one-tenth of 1 percent of his age group on IQ tests, with a score of 150) often question whether it's better to hold them back with their peers or accelerate them. "Should they be in eighth grade when they're the age of a sixth-grader?" Gross says.
She and her husband, Jeffrey, a neurosurgeon, consulted with experts on educating gifted children, and learned Brandon would do better if he skipped grades. Held back, they are stifled academically and don't fit in with peers anyway.
"One program coordinator told me, 'If you don't pay attention to their academic needs, you can't begin to deal with their social and emotional needs,'" Gross says.
Brandon sped through school, starting college at age 11 through the California State University, Los Angeles Early Entrance Program before attending Saddleback College.
When he enrolled at UCI, his parents decided to get him a dorm room, even though he lives at home in Coto de Caza. "He needed a place to hang out between classes," his mother says.
Brandon spends one or two nights a week at Middle Earth, seldom crossing paths with his roommate, a freshman. The two get along OK, he says. For fun, he joined a campus club for devotees of Dungeons & Dragons and other role-playing games. On weekends, he hangs out at home with his three younger siblings and friends his own age, playing Pokemon and video games.
While his best subject is math, Brandon loves literature. His favorite class is on the Latin and Greek roots of the English language.
"Brandon is a brilliant student, and UCI is committed to making sure his college experience is both intellectually challenging and fun," says Manuel Gomez, vice chancellor of student affairs.
Brandon's goal is to attend a top graduate school, but there's no hurry.
"His academic needs are finally being met," his mother says. "We just want him to take his time and find something at UCI he's passionate about. We're through rushing."
Seeing the world from a different angle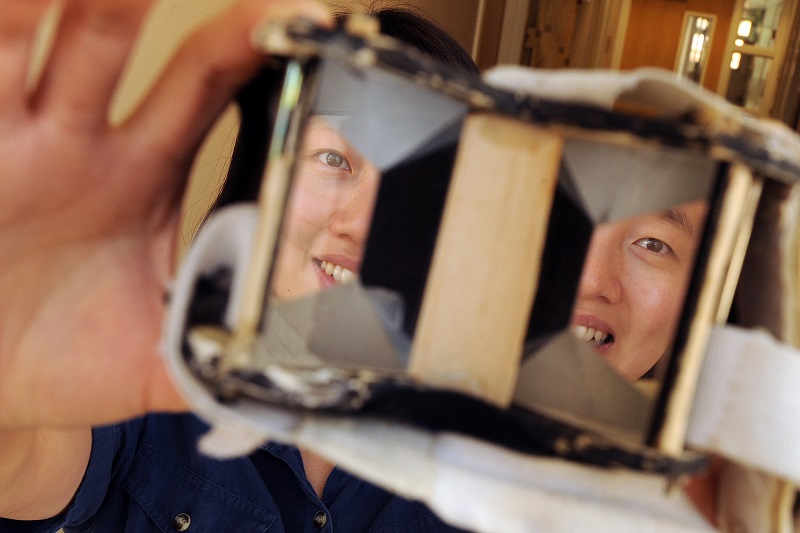 People generally wear glasses in order to see more clearly. Ling Lin, cognitive sciences, is looking for quite the opposite effect through the lenses of her newly designed spectacles.
The alumna and researcher studies what it's like to see - and understand - the world in reverse. Wearing left-right reversing prism spectacles, or what some refer to as "upside down glasses" or "reversing prism glasses," she sees the world as if looking in a mirror.
The experiment is part of her overall research to determine how our brains process information and adapt when what we see differs from reality.
"When we reach for something, like a pen, we first process where it is visually and then formulate an action on how to grab it based on where we see it," she says. "When wearing the glasses, however, visual input and motor output won't correspond to one another because the pen that used to be on the right side will now appear to be on the left."
Working with Alyssa Brewer, cognitive sciences professor and expert on the applications of fMRI technology, Lin monitors brain activity and patterns of individuals in a normal environment while performing a task, such as locating and reaching for a pen. She monitors how brain activity changes when the same individuals don the spectacles and see everything in the opposite direction of where it appears to be located.
"After time, our brains have the ability to adapt to something as dramatic as completely reversing our environment," she says, citing a similar experiment performed back in the late 1800s.
By studying which parts of the brain activate when making this mental adaptation, Lin hopes to contribute to existing visuomotor research and its possible application for individuals with spatial deficiencies such as hemispatial neglect, a neurological disorder exhibited by individuals who have suffered from a stroke.
Local transfer student shines
on UCI Baseball team
A native of nearby Mission Viejo, Mitch Holland knew UC Irvine was a good school but he never gave coming here much thought—that is, until he came to visit the campus.
"Growing up in Mission Viejo we always kind of viewed UCI as the local school—the little brother the UCLA or USC," he says. "I realized how special a school it was when I got on campus and became a student."
The political science major ended up choosing UCI not only for its renowned academics, but also for its Division 1 baseball program. He had been coming to games at Anteater Ballpark since he was still in grade school, so getting to play here has been quite the experience for him.
In addition to being a valuable asset to the athletics program since arriving as a transfer from Saddleback College, he has also been sure to take advantage of opportunities on campus. Shortly after arriving for his first semester, Holland joined Best Buddies, an on campus club that pairs students with special needs friends.
"One of my goals coming in a transfer student was to get involved in campus as much as possible," he says. "[Best Buddies] was an opportunity for me to get involved and get a little more out of my education."
Between athletics, academics and on campus organizations, Holland is just one of the many Anteaters getting as much as possible out of their UCI experience.
Alumni on the rise
Soc sci graduates and small business owners Andrew Bertolina and Kelsey Minarik illustrate
innovation, teamwork and the power of networking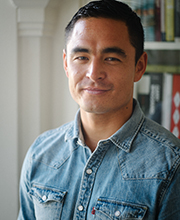 In the world of start-ups, success doesn't just hinge on the strength of a business plan or the determination of the founder. Oftentimes, who you know and collaborate with speaks volumes to investors and potential clients. And when two alumni from UCI's School of Social Sciences form a partnership, both companies are one step closer to success.
That was precisely the case with Andrew Bertolina and Kelsey Minarik. Though they didn't know each other as students, the budding entrepreneurs were brought together by the UCI family and formed an unexpected collaboration—one that has helped to develop each of their growing start-ups.
For Bertolina—whose company, Finvoice, provides a platform for small businesses to auction their invoices to investors—that means generating more clients. For Minarik—who produces fashionable and functional medical supplies like compression socks through her company, RejuvaHealth—that means finding the capital to meet the costs of running a young business. And with such complementary needs, their partnership was a match made in start-up heaven.
Unexpected Beginnings
Starting a company wasn't necessarily at the front of either founder's mind while at UCI. Bertolina was playing tennis, pursuing a degree in economics and imagining a career with the World Bank while Minarik was busy double majoring in international studies and business management and studying abroad in Europe. But the carefree college life was rudely interrupted for the 21-year-old Minarik just as she was about to begin her junior year.
"About a week before the quarter started, I had a trip planned to New York," she says. "During the flight there I noticed severe swelling in one of my legs and some discomfort. Initially, I thought I had twisted my ankle or done something while I was running, so I kind of ignored it and went through the whole week in New York. But it didn't lessen, it just got worse."
When she arrived back on the west coast she still wasn't concerned enough to get her leg examined, but a sore throat brought her to the family physician who saw her leg and immediately sent her to the emergency room.
"So, sure enough, I went and they found I had a large deep vein thrombosis (DVT) or a blood clot in my leg," she says.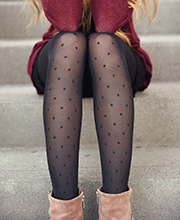 Part of her treatment plan was to wear compression stockings, which Minarik says offered almost immediate relief from the pain. But as a young and vibrant college student, she was less-than-thrilled with the boring options available. In fact, she admits that sometimes she just wouldn't wear them because she found them so inconvenient and embarrassing. After an unsuccessful online search for something more stylish, she resigned herself to wearing the bulky stockings for the remainder of her college career. But shortly after graduation—while working as a sales and marketing manager for a private company—Minarik started to wonder what it would take to produce something a little more stylish herself.
Her father, the CEO of a consumer electronics company, provided her with some valuable guidance when she first came up with the idea for RejuvaHealth. He encouraged her to make a business plan in Microsoft Excel, and after taking a look at the numbers, they realized that this idea could actually work.
"Just from kind of a natural curiosity I was like 'well, maybe I should look at what I could buy these things for if I were to produce them,'" she says. "And it just kind of snowballed."
While Minarik was working on getting RejuvaHealth up and running, Bertolina was cutting his teeth in the finance world. Though he had success in both venture capital and consulting in the few years following his graduation from UCI, he couldn't shake the desire to make new connections and expand his horizons.
"I think I could have stayed in that field and had a good career and made a decent amount of money, but I felt like there were more opportunities out there," he says.
So, he traveled across the pond to complete a specialized graduate program at Cambridge University. While earning his M.A. in finance, he began working for a venture capital firm based in the U.K., which also had a headquarters in San Francisco. This turned into a job stateside once he completed his degree, and it was there—while making cold calls and researching the world's top entrepreneurs—that Bertolina decided that he wanted to start his own company.
"Once I had that realization, I used the rest of my time there to lay the groundwork—looking at different business ideas, doing market research, and thinking about what I'm passionate about and what I would be willing to spend five to ten years on," he says. He had first considered the idea of small business financing as a UCI student, where he imagined himself working for an organization like the World Bank to help people in emerging markets. So, when the idea came up again at his new firm—after seeing the lack of funding for micro businesses in developing nations like India and Latin America—he knew he was on to something. From there, he decided to morph the concept to aide businesses stateside and Finvoice officially launched just over one year ago.
Described by Bertolina as an "eBay for invoices," Finvoice customers are able to post their invoices to be bid on by investors. This allows the company the keep their doors open while they wait to get paid by clients.
"Finvoice is sort of an evolution of this passion I had for helping people through development economics," Bertolina says. "Small businesses typically get paid in 50 to 60 days according to the Small Business Association. They have to pay their employees every two weeks and they have to buy supplies for their business, so a lot of them don't have the capital on hand and they go out of business because they're waiting for payments." Offers are based on their clientele, and the more times a company uses the service, the less expensive it becomes for them.
"This has been an evolution for almost a decade, beginning with studying economics at UC Irvine," he says.
A Meeting of the Minds
As their two very different ventures expanded, both anteaters were looking for the best ways to make their businesses last for the long haul. Minarik was working on fulfilling large orders of her compression stockings for companies like Brookstone, and Bertolina was compiling a dream team to get Finvoice up and running. Then, in 2014, an on-campus alumni panel brought the two together.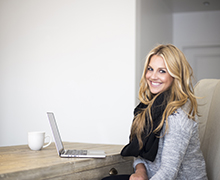 Organized by UCI social sciences lecturer Seymour Schlosser—mentor to both Minarik and Bertolina, this alumni business panel gave each of them a chance to discuss their experiences in the business world with current students.
After hearing Minarik speak on the struggles of financing the large orders during the panel, Bertolina—who was looking for pilot customers at the time—approached her about working together.
"I spoke to Kelsey about what we were doing and explained that we were looking to test the model, and she agreed to be one of out pilot customers," he says. "We owe companies like RejuvaHealth and Kelsey a lot, because in the early days people really have to believe in you to work with you. So we're really thankful for that."
Since then, RejuvaHealth has been a repeat customer, and Finvoice even recently posted a case study about Minarik and her company on its website. Now, both businesses are booming. Finvoice has experienced impressive growth since it incorporated last September, growing both its client base and its team (which even includes another UCI alumnus).
As for RejuvaHealth, the company was named one of the "Top 30 Startups to Watch" by Entrepreneur Magazine in 2014 and has recently partnered with Dr. Comfort—a leading orthopedic shoe provider—to expand their products to clinical medical channels.
"It's been amazing and validating," Minarik says. "I feel really lucky because one of the most rewarding things are the calls we get everyday from people who we're helping to make their lives a little better."
Learning on the Job
Though they have both settled into their roles as founders, there have absolutely been some bumps in the road. But the result is that they both have great advice for up and coming entrepreneurs. For Minarik, coming to terms with the fact that things will go wrong was a big part of the learning process.
"One thing that can be a caveat with entrepreneurs is they all think 'I have the best idea and I know everything.'" Minarik says. "But the beauty about being an entrepreneur is that you quickly learn that you know nothing."
This can be a hard concept for recent graduates to accept, especially at a school like UCI that is home to such high performers. She suggests that undergrads learn as much as they can from faculty while that expertise is easily accessible. But she cautions that no matter how well you prepare, you're never going to build a successful company without taking a few missteps.
"As a student it's so easy to get caught up in the worry of the grades," Minarik continues. "But the other thing about being an entrepreneur is that you're going to screw up even when you give your 100 percent."
Because of the nature of the business world, she notes that it's important to prepare, but to also let those mistakes and problems that arise act as teaching moments instead of becoming discouraged. Bertolina seconds that sentiment and notes that it takes a special kind of person to build a company from the ground up.
"Founders can be wild people at times," he says. "The term people throw around is 'irrationally optimistic.' You have to think that things are going to succeed even when you don't know where you're going to find your next customer. There's a lot of uncertainty. So you have to have a risk tolerance, but you also have to be very optimistic that things will work out."
Of course, it doesn't hurt to have a network of talented classmates to call upon from time to time. And as both of these alumni will surely be in their businesses for quite a while, there may be even more anteater collaborations to come.
A Sunny outlook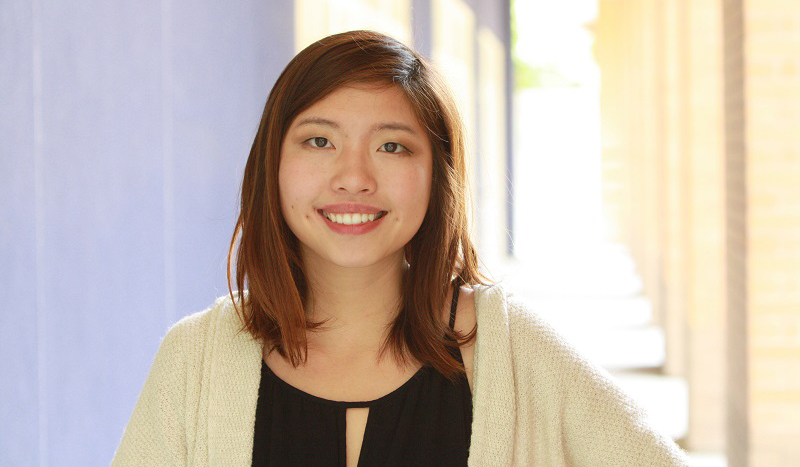 Decorated international studies student chosen to speak at
2015 social sciences commencement ceremony.
It's been a rewarding spring for Sunny Liu. In the past three months, the international studies, anthropology and public health science triple major has been awarded the School of Social Sciences' Order of Merit Award, selected as a 2015-16 Coro Foundation Fellowship finalist, and named one of two speakers for the 2015 School of Social Sciences commencement ceremony—what she says is one of her greatest achievements to date.
Having moved to the United States from China with her family when she was a preteen, Liu understands the sacrifices her parents made to ensure a better education and life for her, and she doesn't take any part of that for granted.
"Compared to most of the world, who still live in poverty on less than one dollar a day to sustain their life, I feel very privileged to receive a higher education," Liu shares. "And I feel responsible to utilize my opportunities … so I can move on, either to higher education or a future career where I can contribute to helping people."
Her interest in helping others stems from her own transition as a child coming to an unfamiliar country where she did not know the language. Because of this struggle, she understands firsthand what it's like to feel silenced. The realization that there were people all over the world who, with or without language barriers, were not able to make themselves heard fueled her true passion to advocate for those who are unable to do so for themselves.
Since arriving at UCI as a freshman, Liu has channeled this passion into dozens of work and volunteer opportunities that helped her to earn her place at the podium this June, including work as a peer academic adviser in the school's Office of Undergraduate Student Affairs, serving as campus director of UCI's UC Haiti Initiative, and traveling to Nepal as a volunteer medical intern. But balancing so many opportunities was not always so easy for her.
"Earlier in school I felt very burnt out," Liu says. "I had a very difficult transition because when I came in I was a biological sciences major and that's what my parents wanted me to do, but I've always felt like it wasn't really what I wanted."
In order to convince her parents that she was more likely to excel in a major that she enjoyed, Liu began taking courses in international studies, anthropology and public health science and took on as many extracurricular opportunities as she could. It worked, but trying to gain her parents' trust led her to take on a bit too much at one time, so she now encourages fellow students to maintain a better balance.
"I think I definitely have the tendency to push forward a little too much and get burnt out," she admits. "I work in the social sciences office, and I always tell students who tend to be overachievers to sometimes to take a break because I don't want them to burn out the way I did. And taking a break doesn't necessarily mean not moving forward. … I think regardless of what you do, as long as you have a purpose in mind, it's still going to be valuable."
Passing on these pieces of wisdom to fellow students is second nature to Liu, who also notes that faculty members are significantly under-utilized resources for struggling students.
"I always had the feeling that I had to do all of my readings and know everything before I went to speak to a professor, but they are great resources. They know a lot of connections, they know a lot of opportunities and they are more than happy to refer you to all these opportunities if you are willing to tell them about your interests and ask for their guidance. I think that is one thing that I wish I had realized earlier."
Now that her degree is on the horizon, Liu is able to look back on her college career with more clarity, but she is also looking forward. She was presented with several fellowship opportunities, but has decided to join the Peace Corps as a youth development and health education volunteer in Fiji. Ultimately, she believes that taking a temporary step away from academia will help her to gain a new perspective on what she wants to do and set her objectives.
"I think that goal setting is a very good habit to have, just so you are looking forward to what you want to accomplish," she advises. "And once you have that goal, it is much easier to figure out the in between and do it one day at a time."
Right now, her goal is to finish her career at UCI with flying colors and deliver an inspiring commencement speech in front of her friends, faculty and family—who just so happen to be celebrating the 10 year anniversary of their arrival to the United States.
"A big part of my parents' decision to move was so that I could receive a better education, and it was a very difficult transition for them," Liu says. "So it will be great having my family here to see me speak."
Without their support I wouldn't have come so far.
Social policy and public service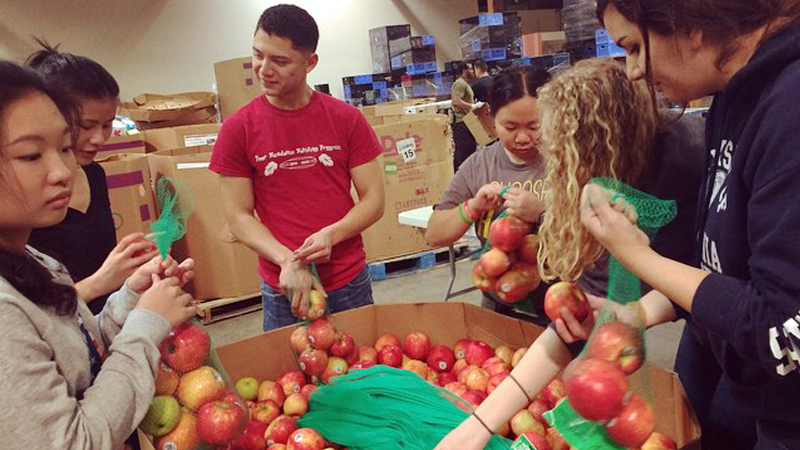 Revamped major emphasizes community service with practical application
Many UCI students choose to dedicate their free time to community and non-profit organizations, simply because they want to make a difference. It's an honorable trait that community-minded anteaters share, and now with the revamped social policy and public service major, they are learning how to turn that desire to serve into a career.
At the heart of the program is a 300-hour community service requirement. Coupled with the major's math and statistics focus, students get first-hand experience with real-world tools that will serve them in their future careers.
"To their benefit, students come out with both quantitative and qualitative training," says Jeanett Castellanos, social sciences lecturer and program administrator. "For me, it's really important that they go into the workforce or grad school with those analytical skills."
Associate professor Caesar Sereseres helped pave the program's pathway nearly 20 years ago with the public and community service major which had a heavy community service emphasis. The updated curriculum, which launched in fall 2011, partners that desire to serve the public with current marketable skills and a set of new policy related courses. And it's become especially popular with double majors, who wish to supplement their learning with the experiences offered by SPPS.
The program boasts 84 enrolled students, up from 53 last spring. Castellanos attributes the positive response to the major's shift in focus that came with the new moniker, which offers students a clearer trajectory for their future education and career.
Daniel Cano, an SPPS and psychology and social behavior double major, had always been drawn to public service, having worked with organizations such as the Second Harvest Food Bank of Orange County (pictured above). But it wasn't until midway through his second year that he discovered he could tie service into his education. He will be entering his senior year this fall and agrees that the practicality of the major was a big draw for him.
"A lot of majors can be heavily theoretical, but this one also helps bring that practical element into it, which is great," he says. "The GIS (geographic information systems) course taught by Dr. Christopherson taught me how to gather census data and map it out. It's a practical skill that companies seek."
Another class that provides hands on training is Castellanos' field study series, a core part of the curriculum that takes place over three quarters. It's also where students get a bulk of their community service done, requiring a minimum of 160 hours with most students completing closer to 200. Over the course of two quarters, students volunteer and conduct research at an organization of their choosing, analyze their findings and compose a final research paper.
To help them choose where they want to volunteer, Castellanos brings in representatives from various groups during the fall quarter to give students an opportunity to ask questions and find which best fits their interests.
For Cano, a first generation college student with an interest in education, the Save Our Youth (SOY) Center in Costa Mesa was a perfect fit. He was drawn to the thought of mentoring youth and helping them take advantage of educational opportunities, but it was the center's creative arts program that really spoke to him.
"In high school, I would produce music," he says. "That was one of my hobbies. And, I never showcased that to the world. I just kept it to myself, instead of a diary. So for me to be able to tutor and instruct but also teach them about music composition or writing songs or poems—it let me put two passions together."
Cano was able to channel that passion into his research paper for the class, in which he used his experiences with the students at SOY Center to explain Latina/o youth attitudes toward education. In fact, that same paper earned him the SPPS Research Award this year, a new award that recognizes a student in the major for outstanding original research that addresses a social issue within education, health or governance.
Castellanos believes that Cano's work as a mentor and his ability to tie that into his studies demonstrates the freedom SPPS students are granted. She also finds that the option to study a personally meaningful topic facilitates a better educational environment.
"It's empowering," she says. "To create great scholars you have to facilitate for the connection between creativity, passion, desire, drive, and personal interest. And a lot of times, we prune that when we try to put things in a box."
She also finds that the opportunity for creativity coupled with the new direction of the major has attracted more focused students. "We have students who see a problem and they want to make a change and they want to contribute—and that's amazing in itself," she says. "And I would say that the change we had in social policy really helped. In the PCS major, we had a lot of top students who wanted to help the community, but these brilliant thinkers—I see a lot more now. When you have a major that has a lot more focus, people who land in the major tend to have more intentional efforts toward their education."
These brilliant thinkers also tend to seek out additional learning opportunities, leading to the founding of Social Policy and Public Service Advocates—an on campus club co-founded by Cano and Patricia Morales. The group holds weekly meetings on topics such as protest culture, resume building, public speaking and more, and encourages all students—both in and out of the SPPS major—to join.
Cano says that it has been exciting watching the group grow since he first explored the idea last year with Castellanos, who serves as the organization's faculty adviser. This winter the group even began mentoring interns, teaching them the ins and outs of running a campus organization and developing their leadership skills.
In addition to SPPSA, Castellanos says that the Social Science Honors Program is seeing more members join from SPPS, as it gives the students an opportunity to continue their field study research once they complete the course.
"It's a great opportunity," she says of the honors program. "It's a whole year of more academic training where students do their own research, and a large majority of those students will go on to grad school."
But whether this new batch of SPPS majors goes on to graduate school or straight into the workforce, it is Castellanos' and the rest of the faculty's goal that they do so as prepared as they can be.
"We always will have a need for public service, and we will always have a need to have a curriculum in place to have people be socially conscious," Castellanos says. "These students are here because they legitimately want to serve and make a difference in the world."
And for these anteaters, learning how to change the world is all in a day's work.
Undergraduate Links
news
Poli sci student and 2017 School of Social Sciences commencement speaker has made it her mission to fight for immigrant rights
Funding provided by the National Science Foundation EAGER Program